Try Some of Vienna's Best Slices of Pizza
Nothing warms cold hands and hungry stomachs like a warm, cheesy slice of pizza straight out of a delivery box. From birthday parties to movie nights, we associate pizza with fun, excitement, and family time. But pizza is also an art, as the serious pizza makers of Naples and New York will tell you. And the Town of Vienna in Northern Virginia, as well as the surrounding areas, specializes in top-of-the-line pizza that is sure to put a smile on your face. No need to get out your passport or drive up to New York, because these pizza artisans bring the taste of well-prepared pizza to you.
Andy's Pizza
Located on the top floor of the Tyson's Galleria, Andy's Pizza survived competitions, the pandemic, and picky northern Virginia eaters with class and flair. Winner of the 2021 International Pizza Challenge at the International Pizza Expo and Conference, Andy's Pizza has the best cheese pizza in the area–but don't take our word for it! The restaurant recommends sitting at one of their tables (with a beer, of course) and trying their hot cheese pizza for yourself before making a decision.
Owner Andy Brown would really prefer that you try their pizza in the restaurant. "If you must choose delivery, we're sealing every box with our reheat sticker for the best at-home experience."
The Don's Wood Fired Pizza
Located in Cascades, Sterling, the Dons' Wood-Fired Pizza has a simple menu but an even simpler taste–and that's worth the drive. Check out some of their fresh garlic crostini and bruschetta, or dive right into their specialty pizzas, including Jimmy the Greek and the Fat and Skinny pizza. The restaurant even has take-and-bake pizzas if you just want that fresh-out-of-the-oven experience but at home.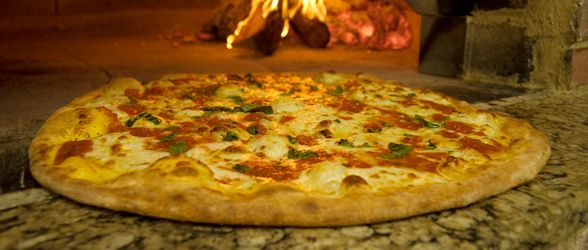 Pazzo Pomodoro
Described as "homey" and "more than a caloric indulgence than a financial one," you can't afford to pass up on one of Vienna's most beloved pizza places. The restaurant bakes its pizzas in a Neapolitan tile oven, and turns out many unique pizzas. Reviewers rave about the "super-thin crust" and the meatballs. If pizza isn't really your thing, they also have pasta, calzones, antipasto, lasagna, and more.
For the adults in the room, the restaurant boasts more than 300 wines available to pair with a pizza or a plate of spaghetti. The "crazy tomato" works for everybody.
Crust Pizza
For a real authentic experience, you have to try Crust Pizza, which is a member of the famous L'associazione Verace Pizza Napoletana. Owner Kevin Ejtemai visited the Amalfi Coast in Italy (close to Naples) and became enamored with the way they create pizza. So he brought over a Neapolitan pizza oven and got to work making pizza the way it should be. Located on Courthouse Road, you have to take home a couple of boxes on your way home from work, or stop in on a lazy day and try their Nutella pizza.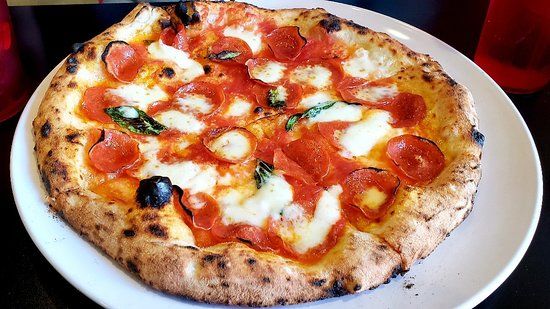 Rubino's
Yes, you might have to drive up the toll road to reach a Rubino's in Ashburn, but you should still take the trip to try some of Ashburn's best pizza, according to locals. A fresh veggie pizza, topped with all manner of crunchy vegetables, or a bowl of tortellini (with cheese) marks just some of the options available on their extensive menu. Make sure to order two large cannolis–one dipped in chocolate, and the other plain–to savor after your meal.
Their bright tomato sauce is like no other in the area. If you're in a rush, you can grab one of their subs or slices of pizza from The Filling Station, a gas station counter located in three areas across Ashburn. There's no excuse to avoid this pizza.