Celebrate St. Paddy's Day Two Ways
For many Northern Virginia Irishmen and women, St. Patrick's Day is about one thing: celebrating their Irish heritage (or beer). How they celebrate, however, can be very different. Some want to enjoy a hearty plate of colcannon, boxty, soda bread, and crubeens, others want a pint (or five) of Guinness, and still others want to bedazzle their running shorts in emerald-colored rhinestones and race toward the pot of gold.
We're not here to judge how authentic your páirtí is, and regardless of the celebratory camp you subscribe to, there's a way to commemorate the patron saint of Ireland with flair. From Kegs n' Eggs to 10K's, here are two of the most popular ways to celebrate St. Patrick's Day in Northern Virginia (although maybe save the kegs for after the run…)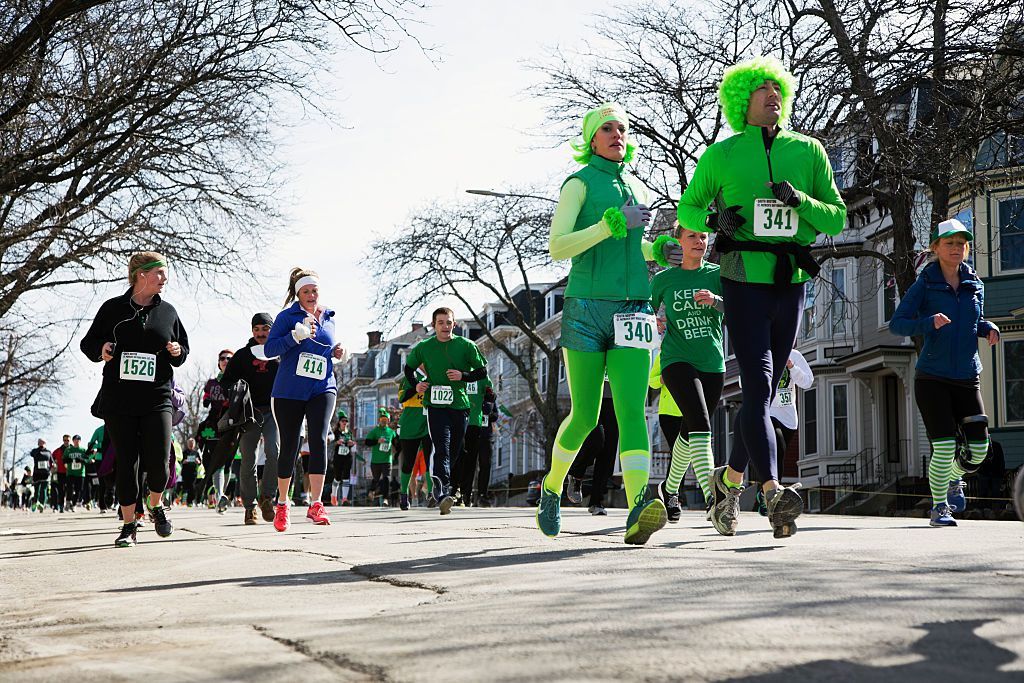 Races
Arlington
Ireland's Four Courts in Arlington has an all-day St. Paddy's festival going down on March 17 (more on that later), but you can get the festivities started early by running their Four Courts Four Miler on Saturday March 16, benefitting the Arlington County Police Friends and Family Fund. Keep your eye on the prize as this course takes you downhill for the first half and uphill for the second, so you'll feel like a speed demon at the beginning and question the "luck" of the Irish before you cross the finish line. But it'll be worth it, as the post-race shenanigans at Arlington's favorite Irish pub will feature live music, Irish jigs, and plenty of pre-St. Patrick's Day beer.
Bluemont
You'll feel all kinds of lucky as you race through one of the most picturesque areas of Northern Virginia. On Saturday, March 16, at 9 a.m. at beautiful Great County Farms in Bluemont, the 5th Annual Bluemont Shamrock 5K and 10K winds through the scenic country roads of Western Loudoun County and kicks off St. Patrick's Day weekend. Afterward, you can join the post-race celebration at Dirt Farm Brewing as you show off your commemorative race shirt and medal while sipping on a Straw (golden ale) or Lac-Tater Sweet Potato Milk Stout.
Reston
Reston Town Center is the epicenter of a good time, and you can get in on the fun early on March 17 at 8 a.m. for the Lucky Leprechaun 5K. Lace up your race shoes and consider dying your hair green (why not?) as this road race takes you all around the town center, finishing at Market Street. There, you can look forward to tasty refreshments, fun music, and great awards for all participants. The kids can get in on the action, too! There will be a free short fun run at 9 a.m. for the littlest leprechauns in your life.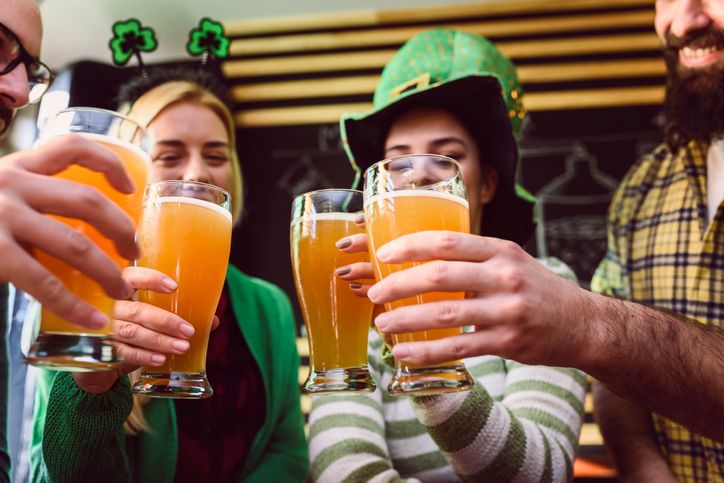 Bars
22nd Annual St. Patrick's Day Celebration
Jimmy's Old Town Tavern
Herndon
At Jimmy's Old Town Tavern, "Everyone is Treated Like a Regular," but we're willing to bet they give extra points to the Irish patrons in the bunch. On Sunday, March 17, you'll want to attend their 22nd Annual St. Patrick's Day Celebration, a daylong event featuring Irish food specials, complimentary souvenir pins, and more fun than you can handle in the beer garden.
Kick the day off with Kegs n' Eggs starting at 8 a.m., followed by a live performance by Tom Saputo at 2 and performances by the Irish Elvis (yes, you read that right) throughout the evening. This family-friendly event takes a cheeky turn at 11 p.m. with their famous Men in Kilts contest, so maybe send the kids home early as you cheers to all things plaid.
38th Annual St. Patrick's Day Celebration
The Old Brogue
Great Falls
Three bars.
Traditional Irish beers.
All day entertainment.
This is how you celebrate St. Patrick's Day:
The Old Brogue is holding its 38th Annual St. Patrick's Day Celebration on March 17, with festivities beginning at 10 a.m. and continuing all day long. Enjoy performances by Ted Garber and Tam McGeady and the Mostly Irish Band over lunch and dinner, but make sure you make reservations as these mealtime concerts are sure to sell out.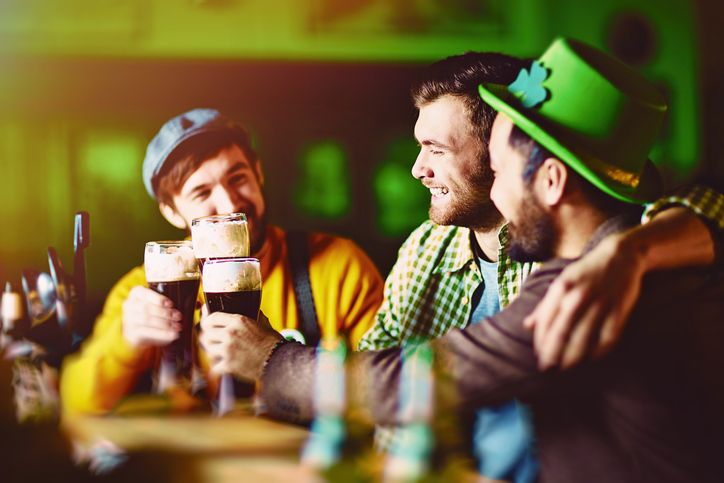 Fairfax
The Auld Shebeen is Fairfax City's only authentic Irish pub and restaurant, featuring traditional Irish recipes and American favorites. On St Patrick's Day, festivities will be decidedly more celebratory of the Emerald Isle and will include live music all day in both the restaurant and downstairs in the cellar, Irish dancers, Seared Salmon Boxty, Corned Beef and Cabbage, Shepherd's Pie, and more. Reserve a table to enjoy performances by The Flying Cows of Ventry, the CCE Session Players, and Conor Malone (a Shebeen favorite).
Arlington
Come for the bag pipers, leave because of the karaoke: Ireland's Four Courts promises a St. Paddy's Day celebration that'll be tough to forget (but a few Magner's Irish Ciders might take care of that). They'll be slinging all the Jameson and Beef & Guinness Stew you can handle, along with Irish dancers and live music inside their heated party tent. And if you're feeling brave? Come as you are and sing what you like at karaoke, where no one will judge you too harshly for your Bono impression.
Alexandria
The fun starts at 8 a.m. and goes all day Fiona's Irish Pub, where pipers, live music, irish dancers, and fun giveaways await. Fiona's is built on the rich Irish Spirit that makes it feel like home, especially if your home churns out delicious Bangers and mash, Dublin mussels in a garlic wine sauce, and a BBQ Chicken Sandwich with Guiness barbeque sauce. With all of the authentic Irish Spirit around you, you may not need a spirit warmer, but to wind down after the celebration, might be suggest the Nutty Irishman, made with hot coffee, Bailey's, and Frangelico? Sláinte, indeed.
Selling Your Home This Spring?
We'd be happy to answer any questions or concerns you have- schedule a call with us to speak with an expert today!
Talk to an Expert