Go on a Pub Crawl at the Reston Town Center with These Cocktails and Appetizers
On one of these last few weekends with summer weather, what better way to watch the sun go down and soak in the warm weather than in the gorgeous Reston Town Center with a cocktail in one hand and a plate of appetizers in front of you? This open shopping mall, just a few steps away from the Reston Metro station, has a gorgeous fountain, concerts out in the open, and festivals celebrating art, wine, dogs, and food. Is there too much to choose from? Why not try it all at once, if you can?
If you have an impromptu gathering of friends, a bridal shower or bachelorette party, or just want some outdoor spots to sit and have a drink with your furry friend, an evening sampling drinks at the Reston Town Center is the place for you. Jump from table to table to grab a quick drink, a sample of some of their best food, and a mental note to return for a whole meal.
Barcelona Wine Bar
Iberian ham, tapas, Chilean and Argentinian wines–did you land in Spain, or are you still close to home? Try a charcuterie board for one with a bourbon spice rack–a drink with Four Roses Bourbon and maple syrup–while you determine where to go next. If you want to keep going, one of their many wine flights or a glass of sherry might help relax you after a long week and get ready for the rest of the evening.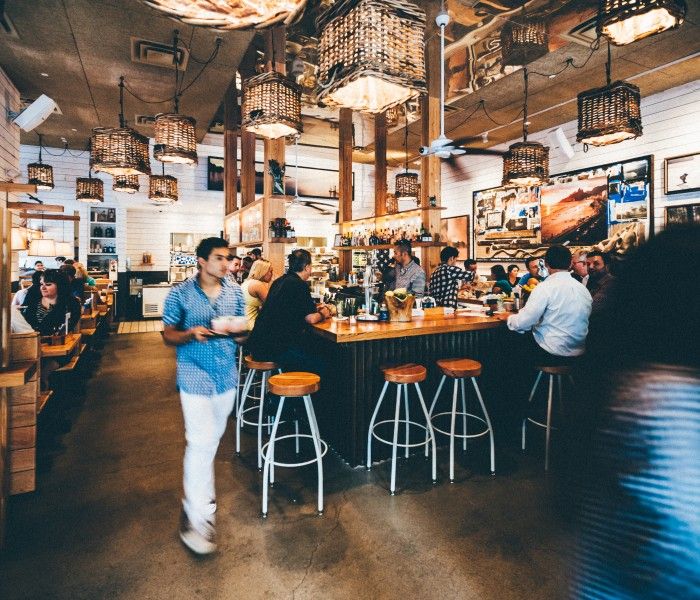 Crafthouse
Eating and drinking local means trying the many Virginia wines, beers, and spirits available at Crafthouse. The bar comes with a live DJ on Fridays and Saturdays, Karaoke Wednesdays, Crafthouse trivia on Tuesday, and UFC fight night. Outdoor seating is conveniently shaded by bushes and trees, so you can have all the fun of sitting outside with all the privacy of sitting inside. With a side of pickle chips and a dutch mule made with local spirits, this night might just be getting started.
Jackson's Mighty Fine Food
If you've never been to Jackson's (or any of the Great American restaurants in the area) shame on you. Hang out in the lucky lounge, eat a basket full of Ozzie rolls (with warm honey butter) and sample a lemon drop martini or a lucky lounge lemonade. You might feel convinced to stay for a whole meal, or you might want a simple side of their mac n' cheese with ham, our favorite. On Sunday, if you wake up feeling peckish after a night out, order the Ozzie rolls from Best Buns, the bakery that's a little closer to Vienna.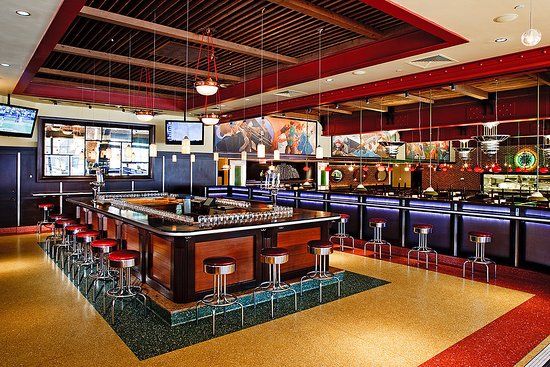 Mon Ami Gabi
Class up the final act of your pub crawl by stopping at Mon Ami Gabi, the Parisian-style bistro that serves a "Summer in Your Mouth" cocktail called the "L'ete dans ta bouche." This cocktail has elderflower liquor, rosemary, thyme, and gin…and it tastes like a field of summer flowers. Grab a smoked salmon hors d'oeuvres or, if you feel like wrapping up the night, indulge in a dessert like a warm berry crumble. The restaurant also serves "no-tinis" or mixed drinks without alcohol. Either way, end the evening by calling an Uber or heading to the metro to go home.
Makers Union
Is it time for a hydration break emphasizing a tasty treat? Stop by Makers' Union (the pub for the people) and indulge in a non-alcoholic birthday nerds slushee, complete with nerds. You can still order an alcoholic one with vodka if that's how you feel. Sample the local brew Right Proper Raised by Wolves, a pale ale from Washington DC, and some oysters. Come back later in the week for a decent brunch even your parents can be proud of.