A Tour of Some of the Oldest Spots in Vienna, VA
If you're looking for a place to call home in Northern Virginia, consider Vienna - a charming small town with a rich history and plenty of character. One of the town's most appealing features is its collection of long-standing businesses and restaurants, which offer a glimpse into Vienna's past and present.
Head out for a walk down Maple Avenue or Church Street and look at some of the oldest establishments in Vienna - from family-owned eateries to hardware stores that have been around for decades. We'll explore the unique offerings of each business and delve into their fascinating histories.
Vienna is a town that values tradition and community and has preserved its heritage in its businesses and architecture. Whether you're a foodie, a history buff, or someone who appreciates the small-town charm, Vienna is the perfect place.
The Vienna Rexall Drug Center
The Rexall Drug Center is a beloved establishment in Vienna, Northern Virginia, serving the community for over six decades. Located on Maple Avenue, the store is still owned by the family that bought it in 1965. Bob Borgatti Jr. says, "We take the time to talk to our customers and they like talking to us, too. I think we provide the customer a service that people are looking for and we provide things that other stores don't want to carry, little odds and ends. We're what you expect a drugstore to be."
The Rexall Drug Center is more than just a pharmacy - it's a testament to Vienna's enduring spirit of small businesses. Despite the challenges that have come with changing times, the store has continued to thrive and adapt, thanks to the dedication of its staff and the loyalty of its customers.
The Vienna Inn
This unassuming local inn may be easy to miss if you're unfamiliar with the area. But like a finely crafted beer, one sip is all it takes to immerse yourself in this place's rich history and vibrant character.
The inn was founded in 1960, but its roots go back even further. In 1925, it served as an ice cream parlor; in the 1950s, it was a drug store. Today, the inn is a favorite spot for town regulars, who gather to swap stories and catch up on the latest news.
Whether you're a longtime resident of Northern Virginia or a visitor passing through, a visit to the Vienna Inn is a must for anyone who wants to experience the history and charm of this institution.
Pro tip - get a loaded chili dog or three to go with your beer.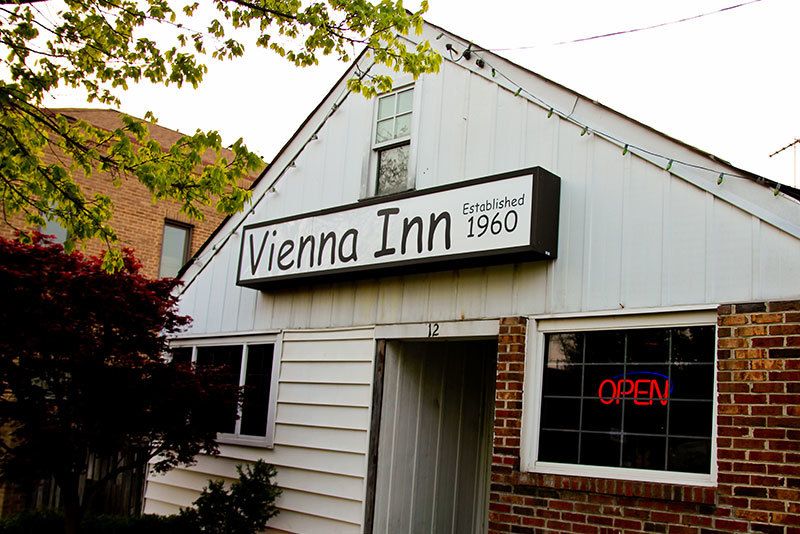 The Sunflower Vegetarian Restaurant
For over two decades, the Sunflower Vegetarian Restaurant has been a beloved fixture in Vienna, Virginia. This welcoming eatery caters to vegetarians, vegans, and anyone looking for a healthy and delicious meal.
One standout dish at the Sunflower Vegetarian Restaurant is the Bolognese Sun-Dried Tomato Mushroom Herb over Penne – a flavorful and filling pasta dish that will satisfy even the most skeptical meat-eaters. Another must-try dish is the Veg Shrimp, a creative and tasty soy and yam-based alternative to traditional shrimp.
Even if you're not a vegetarian or vegan, the sushi at the Sunflower Vegetarian Restaurant is a fantastic choice. With fresh ingredients and expert preparation, this sushi will impress and may inspire you to explore more plant-based options.
The Italian Gourmet
Italians and those who aren't Italian, but are supportive of Italians, know that the best local spot to find Italian imports and delicious fresh treats is at the Italian Gourmet. Want to celebrate St. Joseph's day? The Italian Gourmet offers fresh, sweet zeppole–an Italian donut–to get in the spirit of the old world.
With the opening of Molly's Yogurt, the owners of the Italian Gourmet, the Schottlers, have expanded their presence in the local business community, offering a sweet new option for residents and visitors to enjoy. The frozen yogurt and gelato selection at Molly's Yogurt is diverse and delicious, featuring a variety of flavors and toppings to satisfy any sweet tooth.