Don't Miss Meadowlark's Winter Walk of Lights
The best part of the holiday season has to be the lights everywhere. Yards, parking lots, cars, and windows become alive with twinkling lights and cute scenarios developed by homeowners, businesses, and creatives for no other reason than to light up the winter darkness and bring delight to the community. It doesn't matter what holiday you celebrate, lights make it better.
Thankfully, the Town of Vienna has several special holiday events and traditions that will match anyone's holiday spirit, whether it's specific or generic. But if you have family coming into town, an unexpected night off, or a long-planned holiday vacation coming up, you might want some ideas for what to do with your loved ones or even on your own. The Meadowlark Gardens provide beauty and wonder all year round, but in the wintertime, the special event, the Winter Walk of Lights, really shines. If you live in the Town of Vienna, you can't miss this experience.
Grow Some Joy with Birds, Flowers, and Trees
The Meadowlark Gardens is a historical landmark to the area, with seasonal beauty in summer, spring, and fall. Some of the best parts of Meadowlark throughout the year include the Hosta Garden, the Herb Garden, the Butterfly Garden, the Ferns, Chrysanthemums, and the Cancer Garden. If you're looking to learn more about Virginia, check out the Virginia Native Trees.
But in the winter, everything is dormant and bare, except for human ingenuity. The team at Meadowlark gardens plants hundreds of LED flowers, festoons trees with lights that your decorating-crazy neighbor can only dream of, and develops elaborate scenarios and jokes to delight the entire family.
Some other details include a pond that reflects the lights, musical Christmas trees, whimsical animals, and hidden jokes that might make you chuckle. Walk through it for an hour, or sit on a bench and admire the view. It doesn't get much better than this. Make sure to wear a jacket and gloves–you might be out in the cold for a while.
Make it a Holiday Photo Background
Virginia weather is notoriously fickle. Some years, it may snow, while other years might be mild in temperature. Either way, predicting a background for your holiday photo or your Christmas cards might be difficult if you're looking for something outside of the box this year. Gather the kids or the family dog, and check out the many backgrounds at Meadowlark this year. From tunnels of lights to farmers' scenes, butterfly wings for fashionistas, and benches for cute couples, there are plenty of opportunities to make Instagram moments or card moments at this event.
If your kids are easily distracted, blinky lights will make them look at the camera and smile–just in time for someone to snap a photo. Bribe them with hot chocolate, which can be purchased in the greenhouse.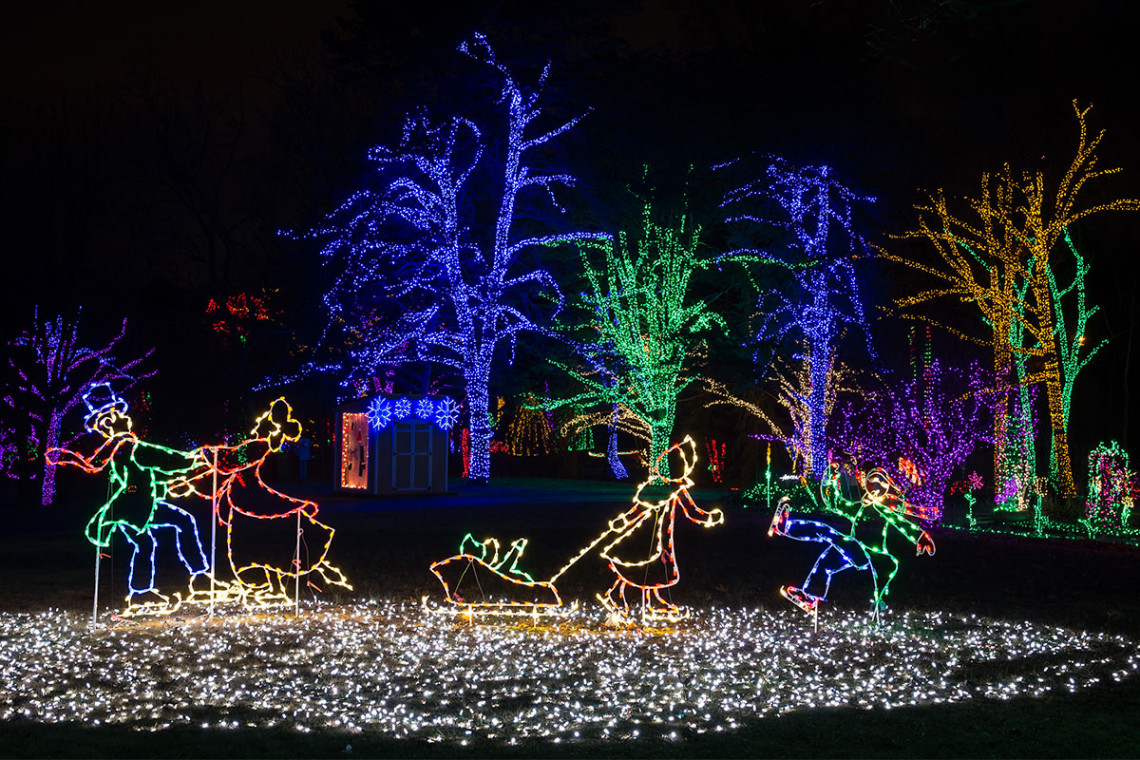 Not Just for the Kids: Take Yourself to Enjoy a Night Out!
If you don't have children, or are desperately need some alone time, take yourself for a walk down this lane of lights and enjoy the sights and sounds. Meadowlark Gardens also hands out spiked hot chocolate and coffees if you feel like getting an Uber home instead of driving. When you're done, head over to Magnolia for desserts, or head out on the town and check out Jammin' Java instead.
The Meadowlark Winter Walk of Lights starts on November 11 and ends on January 8. It's wheelchair accessible, opens early enough to make sure the kids don't skip bedtime, and late enough to fill up your evening.