Go On an Adventure for Dessert at Magnolia Dessert Bar
The historic town of Vienna, VA offers many cultural hotspots and experiences for whatever mood you might be in that day. If you're feeling up for a multi-cultural splash after wandering through Meadowbrook Gardens or touring Maple Avenue, stop in at Magnolia Dessert Bar for a sweet or savory treat. Sip a cup of hot cocoa and munch a croissant, or if you want a taste of Thai treats and a different way to satisfy your sweet tooth, try a Foi-Tong Cream Thai Toast or a Purple Potato Bing Bing, something you might not be able to find anywhere else.
Vienna's vibrant coffee culture fits in well with the unique and tantalizing menu offered at Magnolia Dessert Bar, located on Maple Avenue. While you might have to wait outside for a table, it's well worth the experience. Decorated in a whimsical fashion, like a quaint overgrown garden meets a hidden library nook, you'll love looking at the Asian foods that sit on the shelves (all for sale, of course) while you munch on a Lychee Raspberry Cheesecake. Whether you need something warm in the winter to improve your circulation or something cold in the summer to stave off the sticky Virginia heat, Magnolia has a little something for everyone.
Something Different for the Town of Vienna
Many international restaurants and local cuisine havens are sprinkled throughout the Town of Vienna, Virginia, but there aren't many Thai dessert spots. This shortage doesn't only affect Northern Virginia. Magnolia owner Tammy Disayawathana struggled to find cafes that reminded her of her homeland. She already sold desserts at Sisters Thai, her restaurant in Fairfax, so starting a cafe in Vienna was not a difficult step.
"I opened this place to bring my customers to my home," she told the Washington Post in an interview. "They appreciate the details and ingredients." Magnolia has also raised more interest in Thailand through their very active Instagram account, filled with delectable images of glistening treats. In one post, they promoted a trip to Thailand, sponsored by the Royal Thai Embassy in Washington D.C.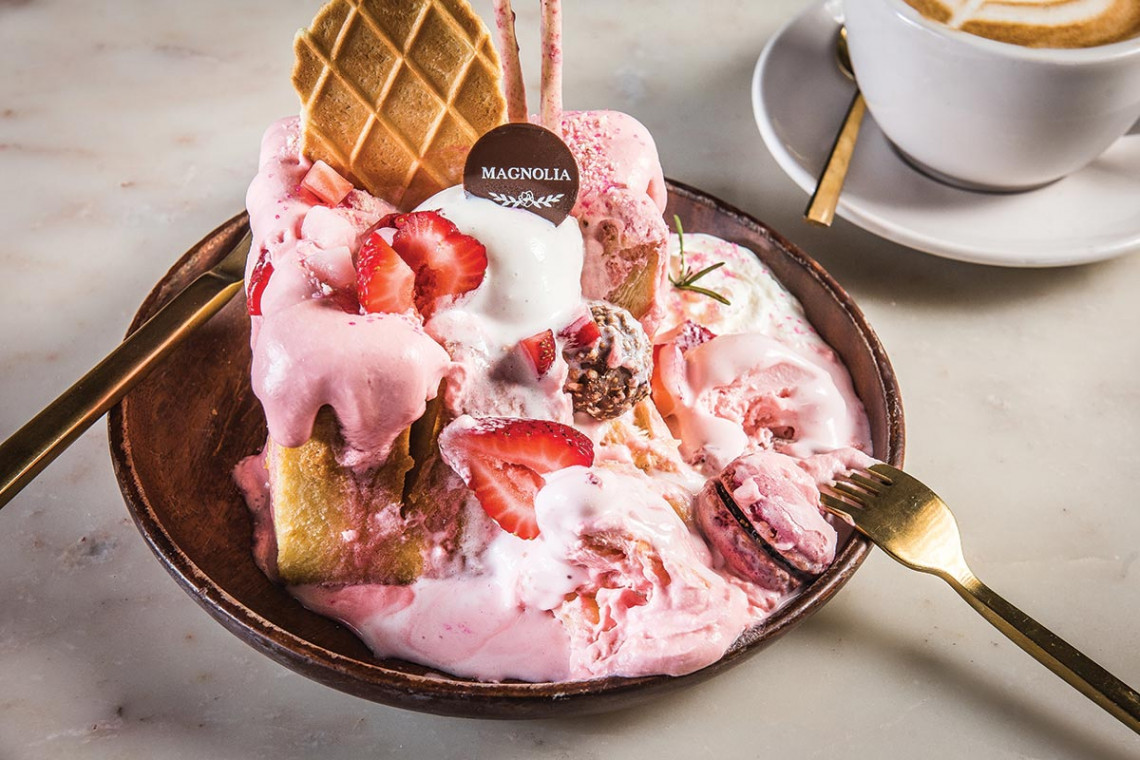 Sweet or Savory? Try Both!
You won't have to commit to a full meal at Magnolia Dessert Bar, but the combination of sweet and savory options can introduce you to new flavors and new concepts. Modeled to look like a Bangkok cafe, Magnolia doesn't just offer Thai treats, but also traditional Korean desserts, Japanese tea cakes, Italian iced sodas, and an incredibly rich atmosphere to enjoy it all in. Bring your best Instagram look and prepare for many selfies next to the flowers, plants, and paintings all hanging in the lobby, corridors, and staircase.
The author's personal favorite at Magnolia is the Blue Hawaii Sparkle, a colorful and bright-tasting sparkling drink that pairs well with the Matcha Green Tea Cake, an understated yet rich cake. This cake rivals the ones found in Kyoto, Japan, in the tea shops scattered around the zoo.
The chicken and basil pesto crepe provides more substantial nutrients for those who hunger. If you want to venture out to other parts of the area, Sisters Thai in Fairfax and Alexandria offers more savory Thai choices, like pad thai and drunken noodles.
Complementing the Town of Vienna
In an interview with Arlington Magazine, Disayawathana, a Vienna resident herself, said that the kinds of cafes she yearned for could only be found in New York City, but she felt that such a style of cafe could be good for the Town of Vienna. "We wanted to complement Vienna because we had moved there. The place I found had been a yoga place, then bagels. I liked that it had two levels. The style of dessert I wanted, like honey toast, I had only seen in New York. I had a friend who baked in Thailand and she came to help."
In another interview that highlighted the honey toast, a hollowed out bread filled with ice cream and other toppings, Disayawathana spoke of her desire to own such a cafe. "I've always had a dream of having a coffee shop and a dessert bar," she told Northern Virginia Magazine.
The incredible offerings at Magnolia can either end your day like a perfect sunset or start it with a happy note. After all, everyone deserves to have a little Milo Bing Bing (a chocolate malted ice dessert) at the end of a long day at work or out in the world.