Enjoy the Views At These Local Rooftop Restaurants & Bars
Picture this: a chilled cocktail in hand, the setting sun casting a warm, golden glow over the landscape, and the lively chatter of patrons creating the perfect soundtrack to your evening. Welcome to the vibrant rooftop scene of Northern Virginia.
These rooftop spots are more than just elevated dining spaces; they're unique vantage points that bring the region's natural beauty into splendid focus, especially during the enchanting fall months. As you savor a delicious meal or enjoy a refreshing drink, you also get to soak in panoramic views that capture the essence of Virginia's charm.
Each establishment offers its unique twist, from chic, upscale rooftop bars serving innovative cocktails to cozy, laid-back eateries offering comfort food with a side of spectacular views. For those seeking to combine gastronomic delight with a love for the outdoors, Northern Virginia's rooftop restaurants and bars are just the ticket.
Lost Fox Hideaway
Ready to go to the Alamo to see a movie, or simply yearning for craft cocktails and delicious bites under the stars? The Lost Fox Hideaway in One Loudoun, up Route 7, offers an enchanting view of the sky, the lights in the town center, and the food. The Lost Fox Hideaway's menu, a delectable array of dishes that fuse classic and contemporary flavors, adds to the sensory delight. Paired with their impressive array of drinks, from innovative cocktails to a curated wine list, each meal becomes a memorable feast.
As you ascend to the restaurant's rooftop, you're instantly greeted by an enchanting ambiance, brought to life by twinkling fairy lights and the soft murmur of convivial chatter. This rooftop haven is more than just a place to dine; it's an experience that intertwines the joy of eating with the beauty of Virginia's outdoors. The panoramic view of Ashburn's skyline, set against the canvas of a spectacular fall sunset, provides a captivating backdrop to your meal.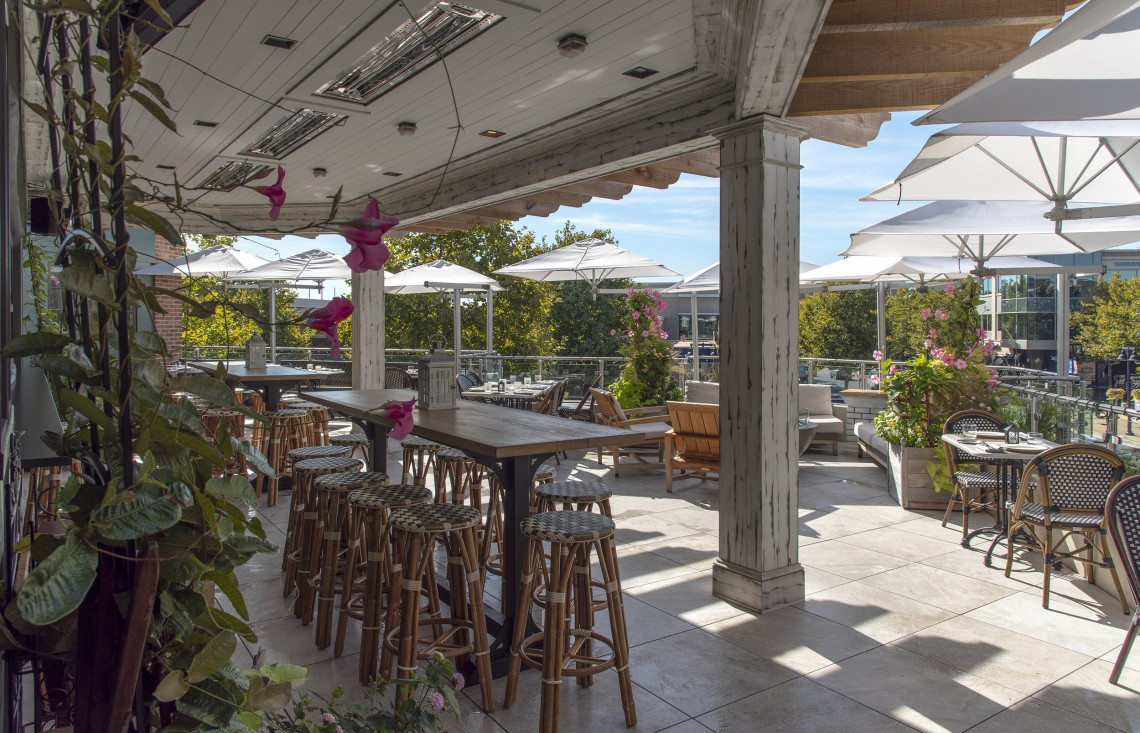 Red's Table
Tucked away from the city's energetic pulse, Red's Table offers a serene dining experience that feels like a retreat into a tranquil haven. Nestled on the edge of a glistening lake, the restaurant provides a relaxing and uniquely captivating ambiance. The surroundings feel far removed from the typical urban dining scene, transporting you to a serene oasis about embracing nature's beauty.
As you settle onto the deck, you're greeted with an enchanting tableau — the tranquil lake surface mirrors the changing hues of the sky, offering a spectacle that's as mesmerizing as any city skyline. The water's reflections dance and shimmer, creating a soothing visual melody that complements your dining experience. It feels like you're aboard a luxurious yacht or a serene cruise ship, drifting languidly along the water.
But the charm of Red's Table goes beyond its picturesque location. Its atmosphere, an inviting blend of warmth and sophistication, beckons you to sit back and unwind. Whether savoring their culinary delights or toasting with a glass from their diverse drink selection, every moment spent on Red's Table's deck is a toast to the serenity and beauty of the lakeside.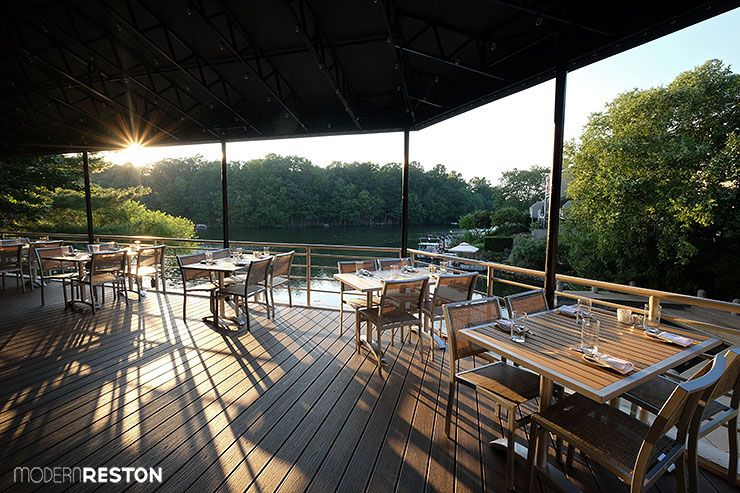 The Perch
Looking for an elevated way to spend your Friday night? Elevate your weekend plans—quite literally—at The Perch. Tucked ten stories high above the ground, this enchanting outdoor garden brings together an intoxicating mix of leisure, entertainment, and culinary delights, creating a destination that's not just a rooftop bar, but a comprehensive social experience.
Hop into an elevator or take the stairs up to this lofty hideaway and you're immediately greeted by a vibrant panorama of lush greens, ambient lighting, and welcoming spaces to gather. The Perch is a place where the simple pleasure of enjoying a cold beer and delectable bar snacks turns into an extraordinary outing.
It's a playground for adults, boasting giant chess boards for a friendly match, bocce ball courts to test your skills, and cozy fire pits to lounge around. Live music fills the air, creating the perfect soundtrack for your rooftop adventure, while the Zen sculpture garden offers a serene retreat within the bustling space.