Fore! Find Your Perfect Hole-in-One at These Local Golf Courses
Golf is a nice, neutral way to get outside and enjoy the great outdoors without overexerting yourself. Whether you're an amateur with a few clubs, a mom with antsy kids, or a single person looking to make new friends, golf gives people the opportunity to play competitively without running out of breath or getting too dirty. The northern Virginia area is primed for golf courses for those who play seriously, those who need a hobby, and those stuck in the doldrums looking for something to while away the hours. Enjoy the beautiful outdoor scenery that defines Northern Virginia and enjoy the fall with a little golf!
Westwood Country Club
The private golf club, located in Vienna, boasts a historic presence going back as far as the 1950s. It has hosted several Virginia State Golf Associations and Washington Metropolitan Golf Association tournaments over the course of its existence. This golf course is a par 71 championship golf course with T-1 bentgrass tees and fairways. It's made for both experts and amateurs alike, and the club itself (once you pay admission) comes with a restaurant, activities for kids, tennis courts, a social calendar, and fitness facilities.
Oakton Marr Golf Center
Not everyone wants to join a golf club, and that makes sense. If you're not interested in keeping up with a community and just want to hit a few balls, check out the Oakton Marr Golf Center in Oakton, a few short miles away from Vienna. This county-owned golf course is considered one of the best teaching facilities in the area, with a 9-hole par three course, a lighted station, and challenges for both pros and new learners alike.
The driving range itself has been newly renovated, so enjoy new practice bunkers and updated designs while you work on your stinger or hook.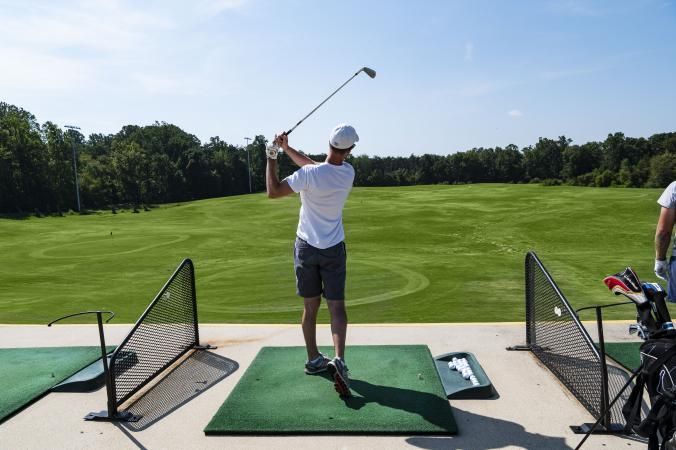 Monster Mini Golf
Tots and teens aren't always patient enough for traditional golf. They like to have a few more options available. Monster Mini Golf in Chantilly comes with laser tag, virtual reality activities, and an arcade, allowing kids and adults to have hours of fun. And don't forget the mini-golf itself, 18 holes of glow in the dark mini golf holes surrounded by a virtual canvas, pop culture artwork, talking monsters, and more.
Not enough for you? This site has a bowling alley, a laser maze for those who crave a reflexive challenge, and an Atomic Rush game, which claims to be a cross between Simon Says and Twister in LED.
Perch Putt
Have you ever wanted to golf on an eleven story building? The mini-golf course at Perch Putt, located at the Capital One Center, offers an experience for everyone, even people who can't be pleased. Head on up the elevators to try their eighteen holes of mini golf, and double decker buses that have been turned into food trucks. The perch also includes giant chess boards, bocce ball, fire pits, live music, a Zen sculpture garden, and a bar, at Rhum Roost. Should you find yourself asking what to do on a Friday night or a Saturday afternoon, this place seems to have it all.
Food trucks serve Jamaican fare and tacos, which are light enough yet savory enough to satisfy. You'll find yourself asking, "Why haven't I been here before?"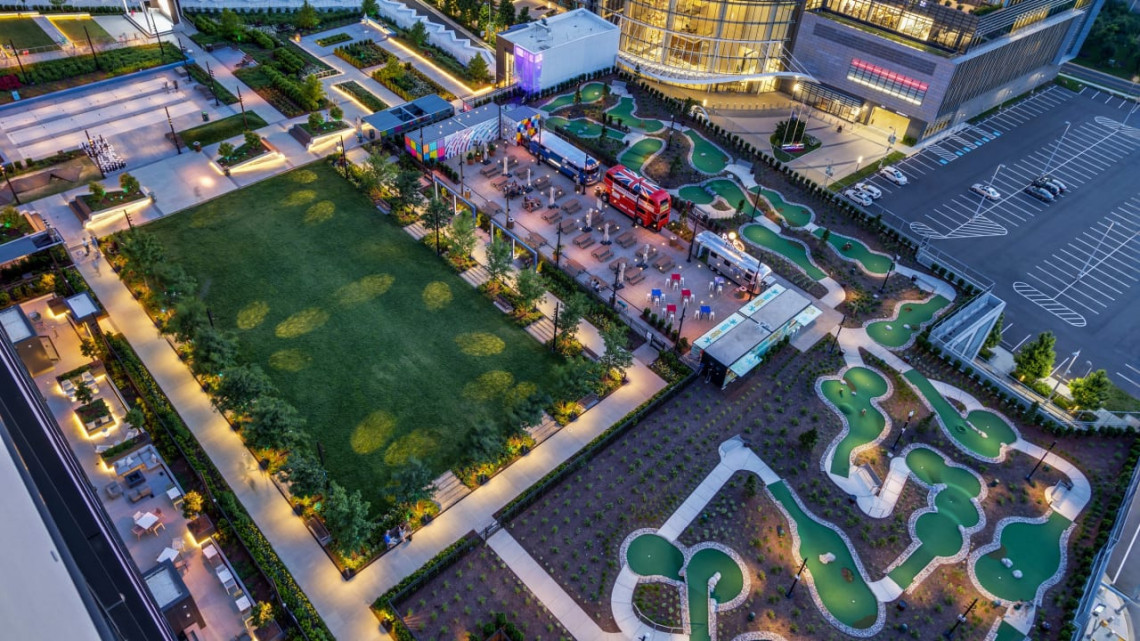 Jefferson Golf Course
Another golf course, this time in Falls Church, offers nine challenging holes and newly renovated bunkers if you're looking to train in the area. Fairfax has its own golf club and several golf tournaments open to the public, so find out which ones you qualify for and become your own golf champion. There are also junior golf groups for those under the age of 18 who may wish to learn how to play. In fact, in the month of August, kids play free at golf courses owned by the county.
Golf classes allow kids to learn from seasoned professionals and certified golf instructors. You also don't have to be a kid to learn–the Everybody Golf School has classes for adults.