Celebrate International Beer Day with These Local Taps!
The town of Vienna is home to many local bars, inns, and other spots to take a breather after work or a long day with the kids. These locations are great for girls' nights, guys' nights, and just hanging out with friends. Some of these spots, like the Vienna Inn, have been around for decades and add significant local color to the historic part of the town. Others are new, offer ethnic cuisine, or are a part of an exciting part of town, like the W&OD trail. Bring back pub night with your friends and family, or go on an adventure on a Sunday afternoon at some of these many spots!
Bear Brand Tavern
Located on Maple Avenue, Bear Branch Tavern offers a late-night special on Thursdays, Fridays, and Saturdays. Local musicians offer live shows on the weekends, and whether you want to crack open a cold one or grab a hearty meal, the restaurant offers ample opportunities for both. For a special Sunday treat, check out their DIY Bloody Mary bar during brunch to make your delicious version of this classic cocktail.
Check out some of the local colors that surround this bar as well, with all the beautiful murals on the outside. Make it the end of a long walking route on a Saturday afternoon if you need the motivation to get outside.
Caboose Tavern
Nestled along the W&OD trail, the Caboose Tavern offers refreshments, snacks, and beer to those on their afternoon walk or the intrepid weekend warriors who cycle across Northern Virginia. You can't pass it up, even for just a cocktail to power you home after a long day. For the horse lovers who live in Vienna, there's even a place to leave your horse outside the bar.
The Tavern has a dedicated brewing team that creates its own beer and collaborates with other breweries in the area. Try their Czech Dis Out Dark Lager, the Das Gut German Pilsner, or the #BrewStachStrong Ale for a unique experience.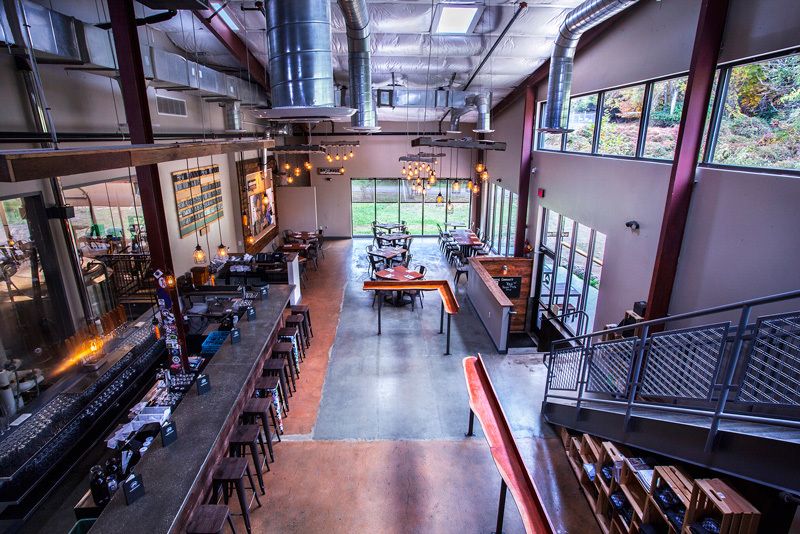 The Vienna Inn
This tiny local inn can easily be missed if you don't know where to look. But like all beers, just one sip will drown you in local history and color. Founded in 1960, the inn had previously been an ice cream parlor in 1925 and a drug store in the 1950s. Town regulars often can be found here with some tales to tell. For a quick bite, order a chili mac or a chili dog–the inn boasts selling more than 10,000 chili dogs a month. While it's hot, enjoy their new outdoor eating space while you watch all the people pass by on the sidewalk, or check out some of their weekly specials if you're feeling adventurous.
The Hawk and Griffin
TIf you're yearning for a traditional British pub with bangers and mash, the Hawk and Griffin can help you satisfy your craving. Quiz nights, live music, and a full English breakfast make this pub stand out from the rest of the local offerings. Indulge in a bit of pasty or some Chicken Masala Curry, or if you want to raise a glass to Her Majesty, try the Coronation Chicken Salad. Ales, stouts, and of course, Guinness can all be downed while watching some Formula One racing or a Manchester United game. If you can't make it to Heathrow, try making it to the Hawk and Griffin.
The MacMillan Whisky Room
If you need a shot of something stronger, for whatever reason, the MacMillan Whisky Room in Fairfax has an extensive list of bourbon, whisky, scotch, and rye. If you don't know the difference, it's time to taste them all to find out. Pair with some gouda sliders, scotch eggs, or a full Scottish breakfast on Saturday or Sunday.