Have an Eggsellent Easter in the Town of Vienna
Whether you celebrate the religious holiday of Easter or just enjoy the coming of spring, warm weather, and bright blossoms, the Town of Vienna and the surrounding areas offer a wealth of events, sights, and experiences to have to kick off the start of the new season. If you have a car, you can drive to some of the farther spots, like the Chesapeake Arboretum or the cherry blossoms in Washington D.C. But if you want to avoid the tourist rush that comes with spring in the D.C. metro area, the Town of Vienna has some excellent options for you and your family as well.
From food, adventures, and springtime experiences both indoors and outdoors, check out the fun things for the whole family to enjoy in the town of Vienna.
Enjoy a Traditional Easter Brunch
Many of Vienna's local restaurants offer an Easter-specific menu for you and your family to enjoy, whether indoors, outdoors, or at home. Places like Blend 111, nominated by the Washingtonian for "best brunch of the year" in 2022, have created elaborate menus of tasty treats and unique dishes like Arepa con Champinones and Latin cocktails that go with these meals. Try some horchata and a pastel de zanahoria.
If you're looking for a more traditional meal, or want to celebrate Passover instead, the Founding Farmers location in Tyson's Corner has separate menus for both Passover and Easter. A complete dinner for four includes a rack of lamb, or maple salmon, or a spatchcock chicken. Other options include honey-baked ham or impossible meatloaf for vegetarians who need more ideas.
Wildfire at Tyson's also offers an Easter Lamb dinner and a cheddar au-gratin potato side.
Bring the Kids to a Local Egg Hunt
Everyone in the area is familiar with the White House Easter Egg Roll, which takes place on April 18. But you don't have to drive all that way to experience a little part of Easter. Meadowlark Gardens, located off Beulah Road, is hosting multiple egg hunts throughout the month. Even if egg hunts aren't your thing, you can still enjoy the beautiful gardens in the springtime when the weather is warm.
Another local Spring event takes place at Roer's Zoofari in Reston on Hunter Mill Road. This activity includes face-painting, photos with the Easter bunny, and an Easter parade. We recommend showing up early for this event!
For those who don't have kids, or just don't like eggs, consider a different outing. The Vienna Theatre Company is performing Arthur Miller's play, Death of a Salesman, starting on April 22.
Buy Organic Fresh Eggs and Paint Them
There is nothing like painting eggs for Easter. Sure, it can be messy and make the house smell like white vinegar for a few days, but it's a family bonding experience to celebrate springtime. Grab some fresh eggs from the Mosaic farmer's market in Fairfax (and while you're at it, try their suggested recipe for an Asparagus Gruyere tart using farm-fresh asparagus).
If you're interested in learning more about Psyanky, or Ukrainian Easter eggs, check out this website to learn how to make them and the history behind these elaborate, artistic Easter eggs. To sponsor a Psyanky for the Ukrainian crisis currently ongoing, check out Psyanky for Peace for more information.
The New York School of Arts in Vienna offers a baking class for Easter centered around making cake pops, if you just don't like eggs. Sometimes, the best sweets are homemade with the whole family.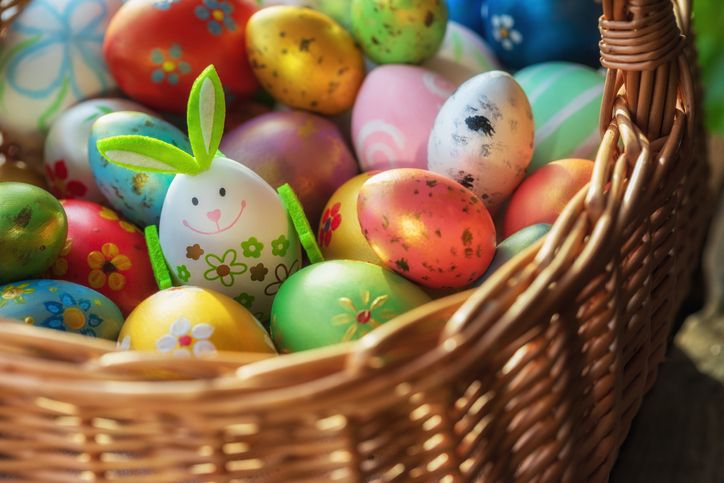 Take a Drive to an Arboretum
Some of the best places to appreciate spring in Virginia are at arboretums, or botanical gardens cultivated with blooming flowers, native trees, and other kinds of plants. If you're not sure what to do on a warm, sunny Saturday in April, hop in the car and head out to the Blandy Experimental Farm, a University of Virginia project with walking loops, guides to blooming trees, and wildflowers, and exhibits to wetland areas.
In a different direction, on the opposite side of the D.C. area, is the Chesapeake Arboretum, a 48 acre area covered with many local plants and a historic barn that dates back to the early 18th century.