The Best Asian Restaurants in NoVA
Northern Virginia is home to incredibly diverse cuisine. As such a cultural melting pot, you can find some of the best spots for Italian, upscale French, steakhouses and so much more. One of the best types of cuisine that Northern Virginia has to offer is Asian- with so many unique options it's hard to even scratch the surface. We put together our 7 favorite Asian spots in NoVA.

McLean
If you've been craving authentic Chinese food, House of Fortune is the place to try. They're known to have incredible soup dumplings, complimented by a comfortable atmosphere and great service. You will not be disappointed with the quality and quantity of food you get at House of Fortune.
Falls Church
Peking Gourmet is a must-try dining experience if you are an Asian food fanatic. It's so good, that even past presidents have dined here. Choose from their regular menu or group menu for larger parties, and try some of the best Peking duck in the area that gets sliced right before your eyes at the table.
Arlington & Falls Church
Four sisters grill brings you fast-casual dining in a Vietnamese fashion. From the Pho to the pork chop, the menu has endless options so there is truly something for everyone. Enjoy authentic Vietnamese food at an affordable price, and fast service.
Alexandria
If you're looking for one of the best Sushi places in NoVA, look no further than Momo Sushi in the heart of Old Town. With a cozy atmosphere, attentive staff, and fresh, high quality food, you will likely find you new favorite Sushi spot in town.
Arlington
Peter Chang's Szechuan cuisine is the best place to get your spicy food fix in Arlington. Known for their flaming-hot options, they offer an array of authentic items such as dry-fried eggplant, Szechuan chili, and so much more. Peter Chang's is definitely a must-try if you're looking to switch up your dinner out this weekend.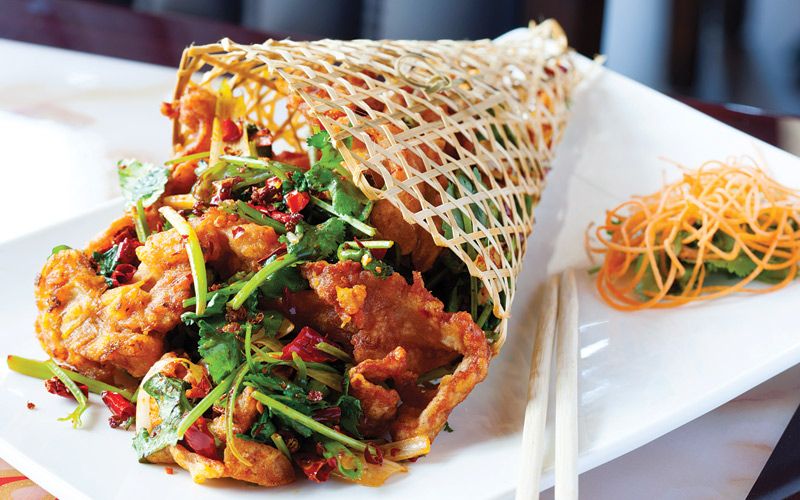 Centreville
If you're craving authentic Indian food, The Pepper Club is the place for you. They offer both South and North Indian options in a casually elegant setting. With so much variety and high-quality Indian cuisine, your experience at The Pepper Club definitely won't disappoint.
Herndon
From Sushi to Chinese, Hunan East is a local favorite when it comes to excellent Asian cuisine. Known for their modern atmosphere, outstanding service, and plethora of options, this is definitely the type of restaurant you will keep wanting to return to.