What To Do On July 4th Around DC
Just like any other state, Washington DC celebrates 4th of July with a bang. In fact, the nation's capital is one of the best places to celebrate the country's birthday. Besides witnessing the dynamic fireworks show on the National Mall, you can celebrate Independence Day in a number of ways and in dozens of venues. It is important to remember that a majority of the main tourist attractions close down in honor of the holiday (or are open for avery limited number of hours), but the city itself turns into a massive party block for the time being, which means you are guaranteed to have a blast!
Whether you are a local or a tourist, planning beforehand the fun activities to participate in on 4th of July can help you save time and ensures you make the most out of it. Listed below are 10 ways to celebrate Independence day this year in Washington DC:
Participate In The National Independence Day Parade
This parade is the official Independence Day Parade that is open for the entire country to join, and is one heck of an extravaganza!You will see a massive spectrum of floats, bands, people, and more that crowd the route of the parade, and millions of people gather every year to see this holiday tradition unfold. The event commences at 11.45 AM, but make sure you reach there long before it starts if you want to be able to really get close to the action. It runs along Constitution from 7th to 17th. You will not need a ticket to enter as the parade is free to watch.
Watch The Mesmerizing Spectacle Of Fireworks
4th of July Fireworks is the king of firework shows! It takes place at the National Mall after sunset, which is usually a little past 9 PM. They are launched from the Lincoln Memorial Reflecting Pool and can be seen from numerous places across the Virginia river and in DC. Many locals make a whole night of it, arriving at the Mall early to catch a spot with some chairs and a blanket, and waiting around until the spectacle starts. The fireworks show is also free to watch and requires no ticket.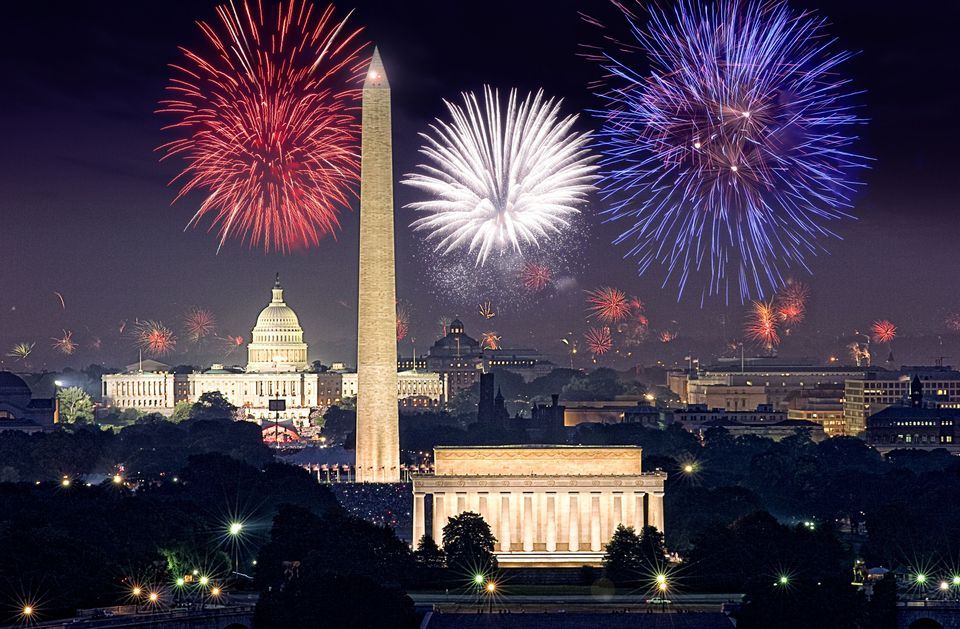 Honor The Founding Fathers At The National Archives
The original copies of the Declaration of Independence, the Bill of Rights and the American Constitution are all displayed in the National Archives. After viewing these crucial and historic documents, you can meet the Founding Fathers who helped give birth to the nation with a performance by costumed actors in Revolutionary-era attire.
Attend A US Capitol Concert
Look for a spot on the Us Capitol's West Lawn for a Capitol Fourth, which commences at 8 PM. The concert generally features a star-studded squad of music artists and a brilliant performance of Tchaikovsky's 1812 Overture by the National Symphony Orchestra.
Chill At The Capitol Riverfront's Canal Park
Canal Park is situated near the National Park and is a hotspot for urban meetings with a breathtaking view of the US Capitol. This ecological park in the expanding Capitol Riverfront neighborhood entertains visitors with green spaces, umbrellas, tables, 42 dancing water jets, and a wood-cooked pizzeria, known as the II Parco.
Hang Around At The Harbor
If you are all about enjoying the fresh summer air and the fireworks without really wanting to hustle with the crowd, your best bet is to spend some time on the Georgetown Waterfront where you will be able to enjoy a delicious meal along with dockside sights of the fireworks.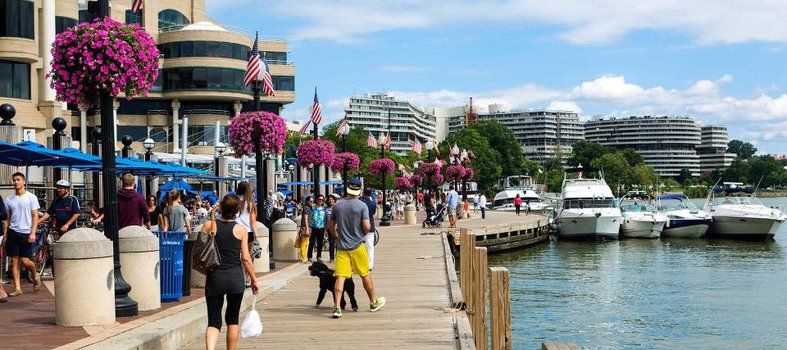 Visit Dc Museums
Unleash your inner history geek by exploring the museums of DC and soak up in arts, culture, and history. A good option is Newseum, which specifically throws light on the history of news reporting and various newsworthy events and trends. It also offers a great opportunity to interact and has a lot to offer to visitors of all ages. Another option that focuses on both nature and history is the National Geographic Museum.
The institution offers a broad range of exhibitions and collections that cover a comprehensive selection of topics, both from the present and the past issues of magazines. Smithsonian's National Museum is yet another option that you cannot go wrong with if you are all about digging details related to American history. They also pack an array of fun Independence Day souvenirs for you to take back home.
Go For A Patriotic Walking Tour
There is nothing that really captures the spirit of this holiday weekend than exploring the city on a walking tour. You have the option to choose from a number of tours that particularly focus on certain aspects of Washington culture and American history.
Spend The Day At The National Zoo
If you are not a people-person and don't like much human interaction, you should definitely spend Independence Day with animal friends at the Smithsonian's National Zoo, which offers free programs. Observe nature, elephants in training, meet an animal keeper or two, feed the fish, or discover a rainforest habitat. You can also see BeiBei, the lovable panda that has caused quite a stir ever since she was born in August 2015.
Check Out The John F. Kennedy Exhibition At The Smithsonian Art Museum
As a homage to JFK's birthday, the Smithsonian American Art Museum organizes a showcase photography to display the amazing life led by Kennedy, all the way from his war hero times to his heartbreaking death on 22nd November, 1963. Some photos are truly iconic, while others have been seen in public before.
So, there you have it plenty of fun ideas for stuff to do around DC so you can make the 4th of July weekend most fun and memorable.
Looking to buy a home in Northern Virginia? Give us a call at 703-340-7470, or visit our Search Page to view homes currently on the market.
And if you've had any thoughts of selling your home, click here to schedule a free market analysis.